Community Day – May 2022 – Alolan Geodude!
LabRat & MIkeiff
1 year ago
Niantic has announced that on Saturday 21st May 2022, Alolan Geodude will be featured as the community day for May between 11am – 2pm Local time! As with all community days, this means Alolan Geodude will be appearing more frequently in the wild and if you're lucky you may find yourself a shiny!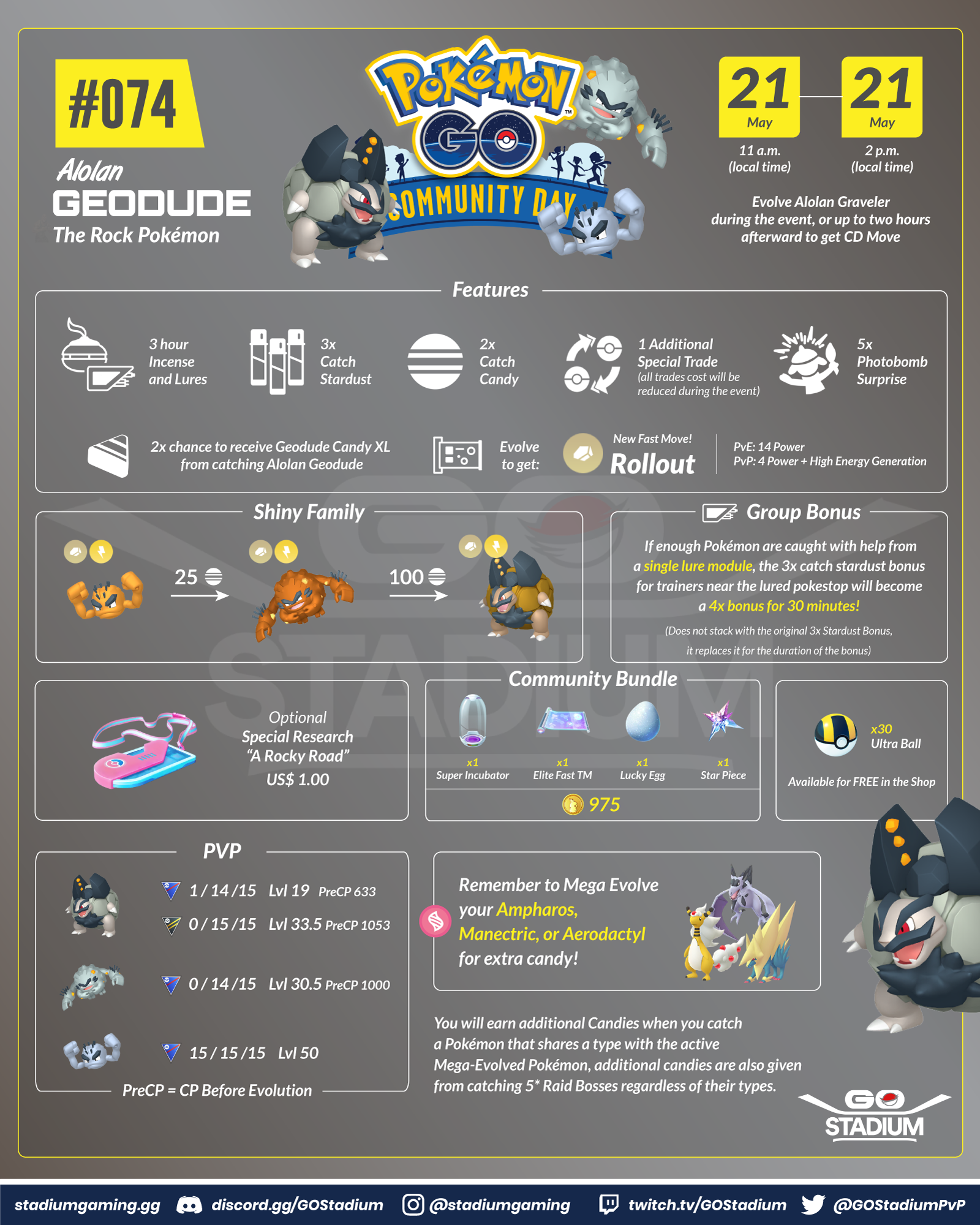 New Move Debut!
Making its Pokémon GO debut during this event will be the new fast attack 'Rollout', which can be obtained by evolving Alolan Graveler (The evolution of Geodude) into Alolan Golem during the event or up to two hours after.
Community Day Research: A Rocky Road
For $1.00 (or the equivalent pricing in your local currency) you can gain access to the Alolan Geodude Community Day-Exclusive Special research story, A Rocky Road!
Not only this, but you will be able to gift a Community Day ticket to a friend! Simply tap the special research ticket within the store and select "Gift" instead of the buy button!
Event Bonuses
Along with these, there will be addition bonuses during the event:
- 3x Stardust for catching Pokémon
- 2x Candy for catching Pokémon
- 2x Chance of receiving Geodude XL candy from catching Alolan Geodude
- Incense activated during the event will last for three hours
- Lure Modules activated during the event will last for three hours
- Take a few snapshots during the event for a surprise!
- One additional special trade will be made available during the event and up to two hours after, allowing for maximum of two for the day
- Trades made during the event and up to two hours afterward will require 50% less stardust
There are also some benefits for those looking to play in groups:
- If enough Pokémon are caught with help from a single lure module, the 3x catch stardust bonus for trainers near the lured pokestop will become a 4x bonus for 30 minutes!
Event Bundles
There will also be two bundles available within the store during the event:
- A special one-time purchase community day box will be available for 975 PokéCoins, featuring one super incubator, one lucky egg, one elite fast TM, and one star piece.
- A bundle containing 30 Ultra balls will also be available within the shop at no extra cost. Make sure to pick it up!